In just a few short weeks, COVID-19 has changed the world as no one could have predicted. Beyond the human cost of over 175,000 deaths1, physical distancing and lockdowns have wreaked havoc on the global economy.
In the United States, the week ending April 18 saw over 4.4 million2 people applying for unemployment benefits, bringing the five-week total resulting from the pandemic to 26.5 million people. According to economists, the unemployment rate for April will significantly dwarf the 10% peak of the Great Recession and the post-WWII high of 10.8% in 19823.
As the bad news piles on and dire predictions of recession roll out, the first instinct for many companies has been to dig in, suspend previous growth plans and put a freeze on hiring. Yet, proactive investment in talent acquisition still remains critical for companies in competitive markets such as information technology.
Differential impacts
This is because the effects of the COVID-19-led recession fall disproportionately on different parts of the economy. The technology sector, in particular, has generally fared better, as engineers and quantitative professionals continue to play a vital role in helping companies adapt to current circumstances. While analytics teams have faced job losses too, a study by the International Institute for Analytics and recruiting firm Burtch Works shows that the brunt of the impact has been borne by startups (see the table below). Given that the analytics job market has been strongly demand-oriented for most of the decade, the current recession is likely to swing the balance somewhat in favour of employers now.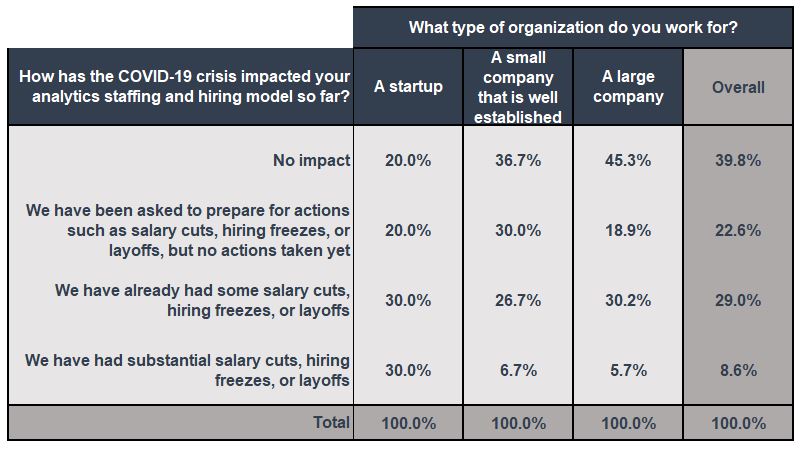 Source:4
Shifts in hiring processes
The pandemic doesn't only herald hiring freezes and job losses. Even where companies maintain financial and operational health, their business processes, including recruitment are having to be significantly reworked. For one, with the drastic uptick in unemployment, companies are starting to see a massive increase in open applications. To maintain efficiencies, companies should invest in HR technologies that leverage AI and machine learning for agile digital screening, assessment, and interviewing solutions. Further, with recruitment events and physical networking opportunities nullified, companies need to look at employee networks and digital recruitment events to maintain and strengthen their talent pipelines. Finally, companies also have to invest in digital onboarding solutions to make sure their new hires are not left in the cold in the new work-from-home reality.
Strategic hiring
As yet, countries around the world still don't have a roadmap for dealing with COVID-19 fallout on a long-term basis. Some forecasts5 suggest that prolonged or intermittent social distancing may be necessary up until 2022, and the possibility of resurgence should not be discounted till 2024. So, one of the key focuses should be on candidates who can respond flexibly and resiliently to uncertainty. This means approaching recruitment processes strategically, focusing on candidates with the right attitude and willingness to upskill themselves and adapt to changing situations. Moreover, while physical presence may necessitate localizing hiring for some kinds of jobs, tech-based industries retain the options of looking further offshore, as remote work becomes the norm. Simultaneously, the fallout of COVID-19 is also likely to spur the growth of the gig economy in the medium- to long-term. So, it's also important to build flexibility and efficiency into the recruitment process through contractual hiring.
Enhancing employer brand reputation
Importantly, companies' actions in the current stage will have a major impact on their employer brand in the post-COVID-19 era. The recruitment focus is shifting towards gathering up top talent who have fallen afoul of the current extreme circumstances. Such candidates will also come with higher levels of loyalty to new hirers considering that they were recruited at a potentially catastrophic time. This could mark an important difference when economies bounce back, and new waves of jobs open up.
Communication and empathy remain key
While companies might be focused currently on maintaining business continuity, employee well-being also remains a top priority. After all, organizations' actions in the current crisis will have repercussions in the long term. The focus at this time needs to be on caring and consistent communication. Issues such as delays in interviews, start dates, onboarding, etc. should all be promptly and honestly communicated to current and potential employees. Further, companies shouldn't give in to the temptation to push candidate salaries much below the market rate, even if some candidates are desperate enough to accept lowered pay. Such actions will cost in company morale and rebound on organizations as and when new waves of hiring restart.
Simply put, hiring in the COVID-19 era requires updated strategic planning that balances the priorities of efficiency and effectiveness with the urgent need for an empathetic hand to employees and prospects alike.